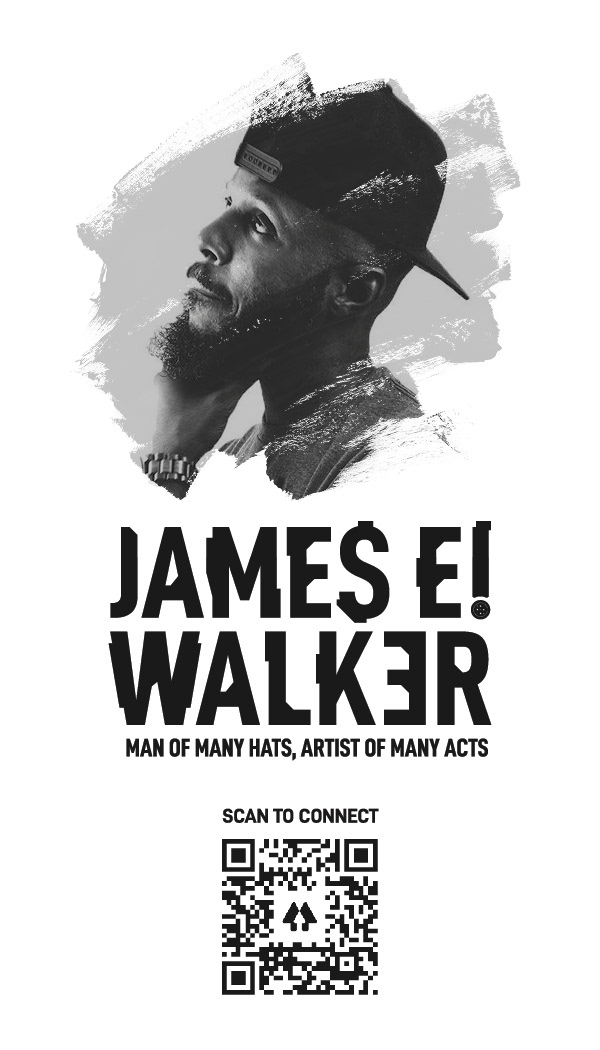 After launching an independent tour in the midst of 2020's global pandemic, James E! Walker continues his creative journey. While venues were shut down, James decided to tour other cities to shoot music videos, photoshoots, study the local culture, and network to build relationships. When most artists were in the bubble, he was touring through Chicago, Denver, Orlando, Big Bend National Park, Atlanta, New Orleans, the Virgin Islands and Cancun. 
In 2021, he officially launched season one of the Designer Rap Tour. Now that venues have reopened, James has implemented live music performances to his set. So far, DRT's season one has covered Austin, Dallas, Atlanta, Birmingham, Los Angeles, Sacramento, and Las Vegas, along with a few pop-ups throughout his hometown, Houston, TX. Walker has opened up for K-Rino, Ganxsta NIP, OG Point Blank, Klondike Kat, Rapper K, Murder One, and many other South Park Coalition underground legends. 
Known as the "Man of many hats, Artist of many acts" James has diversified his creative portfolio working not only as a rap artist and producer, but also as a graphic artist, designer, photographer, videographer and printmaker. His work ethic and knack for networking has landed him gigs alongside artists like Bun B, Slim Thug, Paul Wall, Z-Ro, Trae the Truth, Papa Reu, TechN9ne, Baby Bash, Mike & Cory Mo, Blackcard Steve-O, Swisha House, Dope House Records, Mr. 3-2 and other members of the SUC (Screw Up Click).
As a graphic artist and designer, James has developed brand identities and created graphic artwork for companies like Netflix, Better Homes & Gardens Gary Greene, The Breakfast Klub, the Museum of Fine Arts-Houston, The Printing Museum, Houston Arts Alliance, Via Colori and the Houston Rockets. Walker has also collaborated and worked with artists like Charles Criner, Lenard Brown, Carlos Hernandez & Pat Masterson (Burning Bones Press), Ryan O'malley, Tom Huck (Evil Prints) Lady Lazurus, Michelle Barnes (The Collective), Tajay Byrd (All Access Art Show), Shawn Artis, and many others based in the Greater Houston area.
James' graphic art has been selected on 3 occasions to be featured in the MFAH for the African American Artist Exhibition in 2013, 2017, and 2019. In 2019, he was commissioned by Caydon USA & Houston Arts Alliance to produce 2 large art pieces that hang at both ends of the hallway on the 21st floor of the Drewery Place high-rise in Midtown. In 2020, his design work was published in Bill Gardener & Emily Potts' LogoLounge 12 Book.   
When asked what motivated the tour, James stated "Touring has always been on my bucket list and as an independent artist, I realized I had to make that happen myself. When airline tickets declined due to the pandemic, I took the leap of faith."
Although Walker applied for the 2 artist grants for creatives in 2019, he stated that being denied was the catalyst to spark his business game-plan. It was the process of applying that stretched him out of his comfort zone. When asked what he would do if he didn't get the grant, James' reply was that he would bet on himself. So far, he's done just that—building his tour brick by brick.